Flirt Review
Eddy Wright, Editor

Overall Rating:

9.2 / 10
Next-Level Flirting Games
Looking to spice up your life with attraction and chemistry?
Are you afraid to approach a stunner in real life or hesitate about making the first move?
Don't worry, online flirting has made things a lot easier all thanks to Flirt!
While some are after the real-deal, others are more in tune with a wham-bam-thank-you-ma'am scenario.
If you prefer casual encounters - all private and discreet - Flirt.com is your ultimate dating heaven!
Whether you're feeling flirty or ready to tease, Flirt makes it easy for users to connect to a potential match.
The site not only simplifies the process of sorting through potential matches it also allows quite a few filters to narrow down your search.
As one of the original hookup sites of today, Flirt is home to millions of eager users - all actively looking, interacting, and finding their next great match!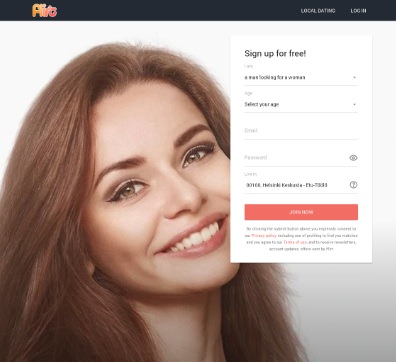 Overview
Flirt is a dating site mainly intended for singles and users on the look for casual relationships and hookups.
It was first launched in 2009 and has risen to popularity in the years to come.
Once the site was acquired by Cupid plc (formerly known as EasyDate), it gained more than a million members worldwide.
All site features used to be free for the ladies back in the day. However, to keep the dating experience safe and on the same keel, Flirt now offers premium membership to all its members.
This was a highly criticized move by Flirt's users, so to compensate for it, the site decided to offer a 3-day trial membership at a minimal cost.
Along with this, the site also has a Satisfaction Guarantee Program that lets users contest for a partial refund, in case they are dissatisfied with the site experience.
In essence, Flirt claims to advocate a site for comfortable flirting, which is why they have introduced safety measures as well as anti-scam protectors. Along with this, Flirt claims to have features that will get your flirting game on and boost your prospects in finding a fling.
Features such as the 'Like Gallery', allow all members to quickly find a match, while 'Flirtcast' lets you broadcast a flirty message to all online users. Reportedly, these features serve to help members who are looking for something fun and casual, rather than finding love and serious relationships.
If you are interested in trying out Flirt, let's get deeper into whether this site is worth checking out or not.
From the way it operates, charges fees and handles users to the way it redefines casual relationships and matches you up almost immediately, here's a closer look into Flirt!
Site Design & Usability
The design of Flirt is straightforward and makes for easy navigation.
There are only two main feature tabs on the header menu: 'Search' and 'Like Gallery'.
On the 'Search' page, the search filters at the top, followed by three tabs:
'All Members',
'Online Now' and,
'New Members'.
Moreover, members are displayed in a grid layout with indicators, if they are currently online. New members also have a red 'New' text mark.
Under each profile photo, you can see the member's name, age, and proximity to your location.
With the rest, there are also two action buttons at the bottom - 'Chat' and 'Wink', used for quick contact making.
On the right side of the header menu, a big green 'Upgrade Now' button is found. Clicking it will take you to the upgrade page, where you can manage your membership. Next to it is a chat icon that takes you to your inbox, whereas on the right side of the chat is a bell icon listing all your notifications.
Signing up on Flirt
Signing up on Flirt.com is fairly simple and unlike signups to any other social networking site.
You can either choose to sign up for free or go for a paid account - regardless, the process is the same and takes no more than a minute (or three!) to successfully create your account.
You also do not have to provide too many details upon registering to the site.
Instead, you just need to fill out the information form asking for your gender, the gender of the person you are looking for, and your postal code.
Interestingly, Flirt does not verify postal codes, so anyone can create an account using any zip code they wish. Next, you need to nominate a password and provide your email.
Your email must be valid as it is relevant to activating your account. Once submitted, Flirt will send you an email with a one-click activation link. Below this activation link is also an activation code that you can manually enter on the site's account activation page.
After activating your account via email, you'll be prompted to choose a screen name and create an informal status describing your current state of mind -- this is what other members will see when your profile shows up in search.
This is also when you're asked to define what geographical area, gender, and age range you want to browse. The last step is uploading your profile picture, and - you're off to the races!
| PROS | CONS |
| --- | --- |
| Over 1 million members worldwide | Pricier than other sites |
| Over 90,000 USA members | Members pursuing casual dating |
| Members in your local area | |
| 2 user types: relationship & tryst seekers | |
| Easy to use | |
| Protects members' identities | |
Special Features
Flirt's members are offered a few special features by the site.
These features can be used a limited number of times by free-account members, while the premium members enjoy limitless usage of these features.
The roulette-type matching feature is called 'Like Gallery'.
This is where a photo of a user is shown and you can click either the heart or 'X' button. The three-tab sections can be found under this feature, displaying all of your matches, the site members you liked, and those who liked you.
Additionally, you can send the same message to all your matches using the Flirtcast feature in just one click. This feature can be used every 12 hours.
In order to showcase your character and personality, you can upload three 30-second videos.
If you find a member with an incomplete profile, you can click on the button that says 'Request more info'.
Automatically, this will send that particular user a notification that you have requested him or her to complete his or her profile.
Paid & Free Features
While a very popular platform, Flirt offers both free and paid options, as follow:
| FEATURE | FREE | PREMIUM |
| --- | --- | --- |
| Signing up and creating a profile | | |
| Receiving contact suggestions | | |
| Receiving messages | | |
| Uploading photos | | |
| Email notifications | | |
| Using the search function | | |
| Seeing all images and galleries | | |
| Responding to messages | | |
Memberships on the site come at a fair price, and your options are:
1 month subscription for $27.30 a month, or $27.30 in total
3 months for $15.30 a month, or $45.90 in total
6 months for $12.27 a month, or $73.60 in total
The Flirt Mobile App
This site doesn't offer its members a dedicated downloadable mobile app.
However, thanks to the HTML-5 coding system, eager flirters can enjoy teasing on-the-go. Flirt's mobile version has five icons on the header, representing each tab feature. The search tab displays members in a 2-grid layout, with two action buttons - Chat and Wink - under each profile photo.
Flirt's Safety & Security
Flirt.com does not take the same precautions as other sites to prevent scamming and catfishing. However, they do ban members who are reported for inappropriate or abusive behavior.
It is possible, of course, for members to earn a trusted status by confirming their identity with a Flirt representative, which is a good way to filter authentic profiles from fraudulent ones.
For more information, check out Flirt's privacy policies.
Flirt Success Rate
To properly review Flirt, we have gathered success rate data based on two-message interactions with 100 women on the platform. Here are the results:
Text message 1: 'You know what I think is really, really beautiful? The first word I just said.'
| Woman Contacted | Responses | Percentage |
| --- | --- | --- |
| 53 | 23 | 46% response rate |
Text message 2: 'Hey, pretty, want to hang out, have fun and do something together for the first time?'
| Woman Contacted | Responses | Percentage |
| --- | --- | --- |
| 50 | 34 | 68% response rate |
Summary
If you are interested and looking for something casual, Flirt promises to get the job done.
In order to find the right match and instantaneously, the online indicators and location proximity information found on each member's profile can help you do so. It also helps that you are not obliged to - courtesy of the five free messages offered by Flirt.
What are you waiting for?
Let your flirty beast loose, gear up on conversation topics, and let's get playful!
Who knows, maybe you'll be the next online Casanova?!